Beginner's Guide to Tire Care
You count on your tires to get you from Point A to Point B, but how much do you really think about them? They're more than just want your car sits on top of. Their tread directly relates to your traction and ability stop. This makes them one of the most important parts of your car.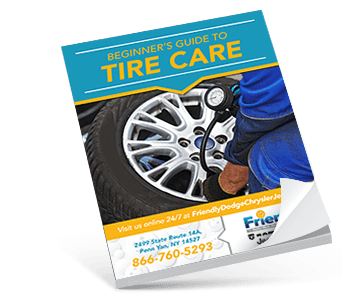 Like any part though, they need maintenance every so often to keep working and giving you that reliable performance. To help driver's in Penn Yan, Geneva, and Watkins Glen learn more about these significant parts, Friendly Dodge Chrysler Jeep Ram put together this FREE eBook, Beginner's Guide to Tire Care. Inside we explore areas such as:
How to check your tire pressure
Issues caused by over and underinflated tires
Preventing blowouts
What to look for when inspecting the tread
Getting your tires rotated
For detailed information about these and other tire related issues, download your FREE eBook. It'll give you lots of useful information about inspecting and maintaining the one part of your car that's always in contact with the road.