Download Our Buyer's Guide to the 2018 Jeep Cherokee
Do you have a thirst for adventure here in the Penn Yan, Watkins Glen, and Geneva areas? Do you long for off-road driving and overnight road trips? Then you're going to need a vehicle that can keep up.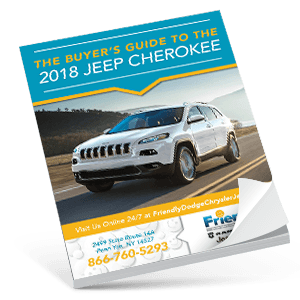 Fortunately, the 2018 Jeep Cherokee has the performance specs, exterior features, and interior comforts necessary to handle all these excursions.
The team here at Friendly Dodge Chrysler Jeep Ram has put together this Buyer's Guide to the 2018 Jeep Cherokee eBook just to show you what it can do. This includes:
Details about traction management and off-road driving
An at-a-glance of exterior designs
A rundown on interior amenities and conveniences
The 2018 Jeep Cherokee certainly has a lot to offer local drivers, which you'll see in this FREE eBook. Download your copy today to learn more!