FREE eBook: Commercial Truck Maintenance Guide
Your powerful fleet of commercial trucks helps your successful business run smoothly. But to ensure that your tough transporters continue to work at their best, it's essential to give them some tender loving care with regular maintenance appointments.
To guide you along the roads of consistent vehicle service, we're here with this Commercial Truck Maintenance Guide eBook. That way, you can schedule all your appointments ahead of time to that every aspect of your vehicle is addressed properly.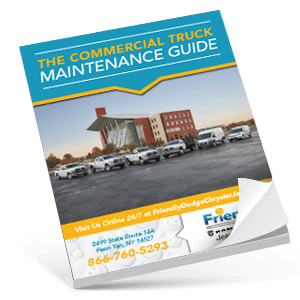 Throughout this comprehensive handbook, you'll learn more about the ins and outs of truck maintenance and why it's so crucial to have it routinely inspected. You can also expect to gather more information about things like:
Performing Visual Checks
Regular Maintenance & Service
Benefits of Routine Maintenance
Getting Started on Maintaining Your Truck
On top of that, this FREE eBook also comes packed with a collection of convenient coupons that'll help you save some cash the next time you head over to your local commercial truck service center.
So, don't hesitate to take advantage of all the perks contained in this valuable Commercial Truck Maintenance Guide eBook. Download it right away so that you can understand more about the benefits of regular truck maintenance.
Simply fill out the form and click submit.