Download Our Driver's Guide to Automotive Maintenance!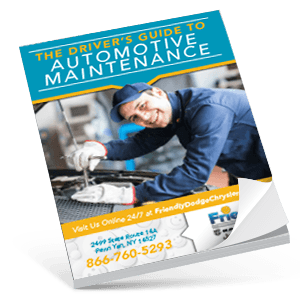 When you buy your next car here in the Penn Yan, Geneva, and Watkins Glen areas, you're undoubtedly going to hope that it lasts for many years to come.
If you shop with Friendly Dodge Chrysler Jeep Ram, the quality is such that you'll almost certainly have an enduring vehicle on your hands. Nevertheless, even the most well-built cars will break down over time without proper maintenance.
We've put together this Driver's Guide to Automotive Maintenance eBook to teach you the fundamentals of maintenance, including:
The importance of oil changes
What to look for under the hood
The most effective minor fixes
You may not be much of a car nut. Still, that doesn't mean you can't learn the all-important basics. By downloading this FREE eBook, you should know everything you need to keep your car running for years to come. Request your copy today!