2018 Jeep Cherokee vs Subaru Outback
When you're driving through the streets of Penn Yan, Geneva, Watkins Glen and Hammondsport, you deserve to ride in style. If you want to add some efficiency and capability to that, the clear answer is a crossover. These incredible vehicles vastly improve on storage space compared to sedans without resorting to the clunky handling of a full size SUV. That versatility has made them very popular, however, so finding the right one for your needs can be tricky.
We want to make things easy for you, so we've taken two of the best crossovers on the market and put them against each other. The 2018 Jeep Cherokee and the 2018 Subaru Outback both have a lot to offer, but only one can be the best choice for you. Learn more about these two stunning crossovers in our Jeep Cherokee vs Subaru Outback comparison.
Performance
If your crossover can't offer you the performance you're used to with a sedan, it's not much of a crossover. Fortunately, both of these crossovers perform admirably, but the Jeep Cherokee has a bit of an edge. While the standard Subaru Outback features an impressive 4-cylinder 2.5-liter engine that produces 175 horsepower, the standard Cherokee packs a greater punch.
The Cherokee's 4-cylinder 2.4-liter engine produces a surprising 184 horsepower. Both of these engines can be upgraded further, but the Cherokee retains its lead. The upgraded Outback features a powerful 6-cylinder engine capable of 256 horsepower. While impressive, it can't hold up to the Cherokee's V6 which produces 271 horsepower.
Off-Road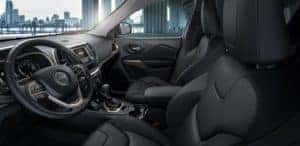 If you plan on taking your crossovers on any off-road adventures, these two are probably your best options. The 2018 Subaru Outback in particular excels at off-roading with its X-MODE feature that optimizes the all-wheel drive system to get the most traction on slippery and rough surfaces.
The Cherokee, however, is a Jeep, and Jeep has always been the best for off-roading. The trailhawk version in particular is especially effective at conquering virtually any kind of terrain you may come across with its Active Drive 4X4 system. The enhanced articulation of the 2018 Jeep Cherokee allows the wheels of this rugged crossover to bend and flex to match whatever terrain you're on. The Outback's off-roading capabilities can't quite match what the masters at Jeep have designed.
Technology
Inside both of these crossovers, you'll find plenty of advanced technology. For example, they both feature innovative infotainment systems complete with smartphone connectivity features, but the Cherokee has some additional features as well. You can opt for an automated parking system and get a fully customizable instrument cluster.
Conclusion: Jeep Cherokee vs Subaru Outback
While both vehicles in our Jeep Cherokee vs Subaru Outback comparison perform incredibly well both on and off the road, the 2018 Jeep Cherokee reigns supreme. Jeep continues to be the masters of off-roading with the new Cherokee, and you can experience it for yourself at Friendly Dodge Chrysler Jeep Ram, the premier Jeep dealer in the Penn Yan, Geneva, Watkins Glen and Hammondsport areas. Our friendly team is happy to show you all the Cherokee is capable of and answer any questions you might have. Schedule a test drive online today!