2018 Ram 2500 vs Ford F-250
Light-duty pickup trucks are just all-around great vehicles, and they appeal to far more people than ever before. Drivers all across Geneva, Watkins Glen, and Penn Yan have embraced the wide range of features they offer, combined with great comfort and performance that can't be beat.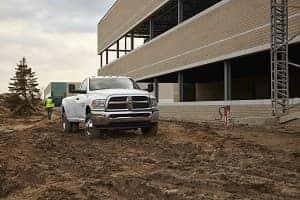 For a long time, Ford has been the big kid in town, and for good reason. It's time for Ford to move over, however: there's a new king of the hill, and it arrives in the form of the Ram 2500. Learn about the outstanding features and performance specs you get from the 2018 Ram 2500, and how it outperforms the newest Ford F-250 today.
Trim Level Options
Both the 2018 Ram 2500 and the Ford F-250 hit showroom floors this year with just a couple changes, but those changes make all the difference. Ford comes with a new top-of-the-line trim level, the Limited, which provides some added amenities but doesn't quite deliver on interior luxury.
Ram, on the other hand, took the opportunity this year to kick the performance up a notch, at the same time adding a new top-level trim: the Limited Tungsten. Within the cabin of this speed demon, you'll find all the high-end touches you need to take your journey to the next level.
This includes upgrades to the awesome 8.4-inch Uconnect® infotainment interface, which now gives you Apple CarPlay™ and Android Auto™ support, as well as a full 4G LTE Wi-Fi hotspot.
On top of that, the cabin features an array of soft-touch materials, which create a classy atmosphere inside your pickup. Inside this version of the Ram 2500, you'll discover upholstery options like the Natura Plus premium leather in various hues, such as Frost, Indigo, and more.
Performance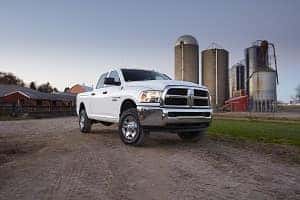 For years, performance was Ford's claim to fame. It boasted class-leading power and performance overall. That's simply no longer the case.
For example, the 2018 Ram 2500 comes with an optional 6.4L HEMI® engine that pumps out 410 horsepower. The 2018 Ford F-250 doesn't quite meet the capability produced by its Ram competitor with its 6.2L engine that produces only 385 horsepower.
On top of that, both the Ram 2500 and the Ford F-250 offer up a standard 6-speed automatic transmission. However, when paired with the more powerful engine of the Ram 2500, you'll be served up with the perfect boost of strength when you need it most.
Unfortunately, because the Ford F-250 features a weaker motor, you may find its transmission a little less potent and responsive.
Features and Technology
Ram also presents many features that Ford can't match. For example, the Ram 2500 comes with standard cruise control, a feature that is an optional upgrade (with associated extra cost) on the Ford. Plus, your base-level entertainment system in the Ram comes with six speakers, as compared to the four from Ford, for a much richer and fuller sound.
Both vehicles offer a Wi-Fi hotspot in their infotainment systems, Android Auto™, and Apple CarPlay™ functionality. However, the Ram is far easier to customize with a whopping 19 different ways to trick it out between trim levels, bed lengths, engine levels, transmissions, and cab configurations. Ford provides far fewer ways, with three less trim levels available.
Test Drive the Ram 2500 at Friendly DCJR
You deserve to be armed with a truck that works as hard as you do. So, if you're looking to dominate the roads of Penn Yan, Watkins Glen, and Geneva, stop by Friendly Dodge Chrysler Jeep Ram.
Our team is happy to provide you with all the information you need to understand what makes the 2018 Ram 2500 so special. Visit our showroom or contact us today!