2018 Ram 3500 vs Chevy Silverado 3500
There are a lot of things to look for in a full-size, heavy-duty pickup truck. Certainly, at the top of the list is performance—after all, the main reason to buy a large truck like this is because you want to tow, haul, and go anywhere you want to go, on-road or off. Drivers across Penn Yan, Watkins Glen, and Geneva have known for years that Ram and Chevy are two of the best truck makers around.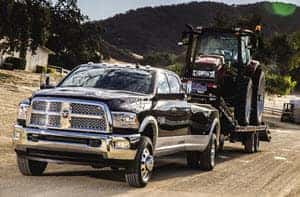 But which one puts out the better heavy-duty, full-size monster? Let's see what happens when the 2018 Ram 3500 goes up against the 2018 Chevy Silverado 3500 for performance, features, comfort, and more. And don't hesitate to contact us at Friendly Dodge Chrysler Jeep Ram if you have any questions.
Ram vs Chevy: Performance & Towing Capacity
Since performance is the key feature in choosing the right pickup, let's start with how the 2018 Ram 3500 measures up against the 2018 Chevrolet Silverado 3500 in terms of engines and power. The Ram is capable of towing up to 30,000 pounds, when properly equipped. Plus, when equipped with the 6.7L I6 Cummins® turbo diesel engine, the vehicle puts out 930 pound-feet of torque.
The maximum towing capacity of the Silverado 3500, meanwhile, is 22,000 pounds. And when equipped with its 6.6L Duramax® turbo diesel V8 engine, it only delivers 910 lb-ft of torque.
Base Options & Features
When it comes to features and technology, it's hard to beat what you get from the Ram 3500. Its Uconnect® infotainment system with Apple CarPlay™ and Android Auto™ allows you to get the most out of your smartphone apps. And its remote start, dual-zone automatic climate control system, ParkSense® Rear Park Assist System, security alarm, and limited-slip rear differential make all the difference in driving experience and comfort.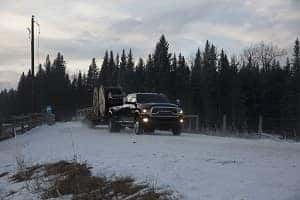 The Chevy Silverado 3500 does come with some unique features of its own, like Digital Steering Assist and a trailer camera, but it doesn't have the sheer wealth of features, technology, and equipment that the Ram 3500 has to offer.
Comfort
Comfort is really a subjective thing, but the Ram offers more features to help make you comfortable and improve your overall experience. These include premium leather upholstery with suede headliner, wood accents, and tons of room for small item storage, including under the floor. It also has outstanding cabin sound dampening, and the suspension does a great job at keeping the ride smooth overall, as well as increasing the ease of entry and exit.
The Silverado 3500 also offers a comfortable drive, with leather upholstery and heated seats, though it doesn't have the same range of features working together to offer comfort and support.
Test Drive the Ram 3500
In many ways, but especially in terms of performance and towing capacity, the 2018 Ram 3500 simply outdoes the 2018 Chevrolet Silverado 3500, though the latter is a fine truck in its own right.
If you'd like to check out the Ram 3500 on the roads of Geneva, Penn Yan, and Watkins Glen, stop into Friendly Dodge Chrysler Jeep Ram today.