Synthetic vs Conventional Oil
Motor oil. It's the lifeblood of your engine. You've definitely seen rows of it in the store and heard the term oil change, but what kind of oil should you put in your car? To help drivers in Penn Yan, Geneva, and Watkins Glen decide, Friendly Dodge Chrysler Jeep Ram put together this FREE eBook on Synthetic vs. Conventional Oil.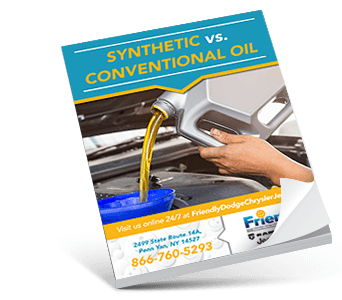 Inside we'll cover all the ins and outs of oil, including what it does for your engine, and look at important questions about how the two types stack up against each other, such as:
How they're made
How often you should get an oil change
How do they perform under extreme temperatures
How each one can affect your engine long term
With this comparison, you'll get a better idea of which one will give you the best performance inside your car or truck. To find out what's going to be most effective in your engine during all your drives around Penn Yan, Geneva, and Watkins Glen, download your FREE eBook, Synthetic vs. Conventional Oil.