Best BBQ In Upstate New York

Making great BBQ is an art. The smoky flavors brought out by a dry rub of secret spices or savory house made sauce on tender meat is a thing to behold.
If you've got a craving for original recipes with meat that's fall off the bone good, the team at Friendly Chrysler Dodge Jeep Ram loves these places – enjoy your BBQ at delicious restaurants near Penn Yan, Geneva, and Watkins Glen, NY!
Mo's Pit BBQ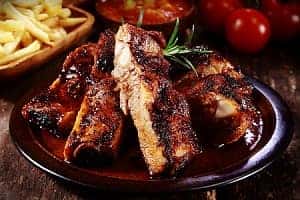 At Mo's Pit BBQ you'll find a flavorful menu, put together by a team so passionate about BBQ that their owners are on the floor serving it to you personally.
Since 2007 this family-owned joint has been smoking all your favorite meats to perfection with their traditional wood-fired pit BBQ approach.
They pride themselves on making great ribs, which you can get in either a full, half, or quarter rack. If you're looking for a great sandwich instead try their beef brisket, pulled pork, or regional flavors like Mo's Carolina sandwich or the Brisket Philly.
There's even some flavors from the nearby lakes like catfish strips or a fried haddock sandwich. All their dishes, both from the farm and the lake, are served with a choice of house-made sides like baked beans, Cole slaw, applesauce, or mac n' cheese.
You can also get a full supply of Mo's for your next big event. Feel free to rent out their banquet hall, The Newport Room, or order catering.
Follow Mo's Pit BBQ on Facebook to get updates on their specials.
Nickel's Pit BBQ
Just a short walk from the southern tip of Seneca Lake, Nickel's Pit BBQ is serving up their signature sauce, smoked meats, and live music.
In this popular downtown setting, you'll find a full bar that's perfect for a happy hour drink and fresh BBQ. All their ingredients are farm to table, so you know you're getting the freshest BBQ and sides.
Order a plate of Ribs n' Chicken to get a taste for how much care they take in smoking multiple types of meat. Pork lovers can try their classic pulled pork sandwich in either Buffalo or Carolina style.
You can also get your pork fix as an appetizer. Try pig wings as a starter instead of traditional wings. Get a full feast of swine with the Triple Hog. It's got charbroiled kielbasa, pulled pork, and bacon.
Enjoy all this flavor while local bands and musicians take the stage. To find out who's playing or what their specials are, follow Nickel's Pit BBQ on Facebook.
Smok'n Bones Barbeque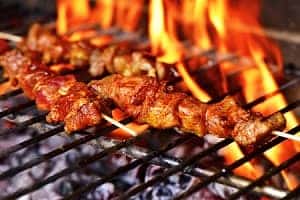 For a place that has traditional slow-smoked BBQ, plus classic American fare, check out Smok'n Bones Barbeque.
You can enjoy the fruits of their full pig roasts or order some southwest nachos and Texas toast. They're all about providing you with specialty BBQ plus your traditional favorites. Sometimes they even combine the two, like the Brisket Cheese Steak on an Italian sub roll.
What says American cuisine more than bacon-wrapped shrimp? With close proximity to the Finger Lakes seafood like salmon is as plentiful on their menu as their New York Strip Steak.
They can even cater your next party. You'll have savory ribs, slow-smoked beef brisket, or tender pulled pork at the ready for your next big event.
Check out Smok'n Bones BBQ on Facebook to stay up to date on their specials.
Smoked to Perfection
Every one of these places puts so much passion into their food that you'll be able to taste their commitment to fine BBQ in every bite. Head over to one of them next time you and your crew want to enjoy BBQ at the delicious restaurants near Penn Yan, Geneva, and Watkins Glen, NY.