Tire Pressure FAQs

Schedule a Service Appointment
Your car's tires are one of your vehicle's most important components. They come in contact with the ground, keeping you safe and helping you get where you need to be. Therefore, you want to make sure your tires are always being properly cared for. Friendly CJDR created this helpful guide about some of the most commonly asked questions when it comes to tire pressure. Residents of Penn Yan, Geneva, and Watkins Glen should read through carefully and contact our service center with any questions.
How Do I Know When My Tire Pressure Is Too Low?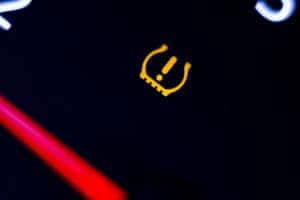 Thanks to the TREAD act, most vehicles after 2006 must be equipped with a Tire Pressure Monitoring System. TPMS is an electronic system that monitors your vehicle's tire pressure and alerts you with a light on your dashboard when it has fallen too low and needs to be inflated.
Additionally, there are some signs your tire pressure is too low and needs to be checked, or that you're in need of a tire service.
Signs of Low Tire Pressure
The following are the most common signs of improper tire pressure. Always make sure to pay attention to the way your car handles so you can detect when something may be out of place. Contact a service center if you have any questions or concerns.
Hitting Hard
When tire pressure it too low and you drive over speed bumps and potholes, you may hit them harder than usual. With less cushion from lower tire pressure, you may experience a harsher drive, potentially causing damage to your vehicle's components.
Problems with Alignment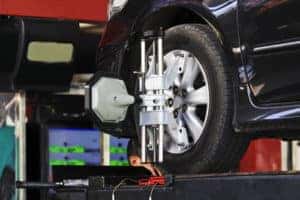 If your tires have different pressures, your car can become misaligned. If you notice your vehicle is pulling strongly to one side, there is probably a problem with your alignment, and you should consult our service center.
Reduced Gas Mileage
Low pressure tires cause your car to work harder, potentially causing an increase in fuel consumption. Always pay attention to your gas mileage. If you find yourself making more gas station runs than normal, check the pressure of your tires.
While it's helpful to pay attention to these common signs of low tire pressure, it can be tough to judge on sight or feel alone. Always pay attention to any warning lights on your dashboard and take note of anything unusual about your vehicle or driving experience.
What's My Recommended Tire Pressure?
Ideal tire pressure depends on the make and model of the tire as well as your car. Consult your owner's manual for more information on the recommended tire pressure for your specific vehicle. It's important when inflating or replacing your tires, you're keeping the proper tire pressure in mind. Make sure to visit our service center with highly trained technicians who can recognize the individual needs of your car's tires.
Where Can I Get My Tire Pressure Checked?
The service center at Friendly CJDR features dedicated technicians who are knowledgeable in a wide range of services, including tire pressure checks, tire inflation, and tire repair. We'll inspect your tires and ensure they're measuring at the proper pressure for your car's make and model. If we notice anything out of the ordinary, we'll recommend the right course of action to preserve the longevity of your tires. Our neighbors in Penn Yan, Geneva, and Watkins Glen can contact our center today to schedule an appointment.
Other Services:
Oil Change   Brake Repair   Transmission Repair